When we arrived at New Belgium, about 10 minutes before the doors opened, a line had already formed. Adorned with flower crowns I crafted for us, Erika and I eagerly waited for the doors to open. We pointed out woodland themed costumes to each other, including an adorable mushroom in front of us. Five minutes before the door opened, the line had reached the street.
Once we walked in the brewery's front doors, we were enveloped by a breathtaking canopy of draped leaves from the ceiling and flowers painted on the chalk menu. We headed straight for the main bar and ordered the main attraction.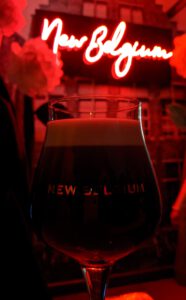 Each year, New Belgium's Lost in the Woods has a theme with a beer brewed specifically for the event. I was hoping for a botanical mirage of a sour and was not disappointed. When the Honey Saffron LaFolie Grand Reserve was presented to us, it had a beautiful, deep cascade of tan head. In the glow of the red light, the beer looked black, completely turbid with a heavy honey nose and a savory, balanced finish.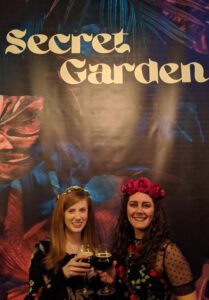 With beer in hand, we headed for the foeder forest! The evenings theme is always vague enough to take in your costume in any direction, but the secret garden decorations were clear. Giant wonderland-esque flowers, honeycomb walls and massive honey bees were just a few of the forest dwellers. And what's a party without a great photo-op! There were flower walls, giant "Lost in the Woods" posters, decorated foeders, honeycombed walls, sheaths of string lights, and more.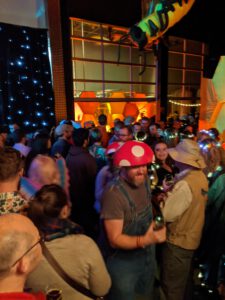 Not everyone was dressed up, but those that did fully committed! Our favs included:
Beekeepers
Shrooms
Gardners
Butterflies
Gnomes
Bug catchers
Slugs
Lady bugs
Florals galore
Fairies
And plenty of FoCo Formal (flannel)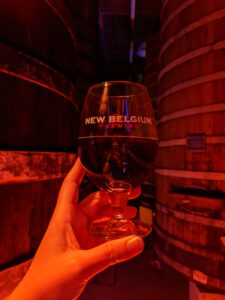 Erika and I grabbed our second beer at one of the three bars in the foeder forest, both deciding on the classic La Folie, and continued to weave our way through the garden. We found ourselves at the end of a mysterious line that snaked through a carnival-like entrance. We figured there was a photo booth or a mean veggie spread at the end of the line, both of which we were willing to wait for. The line proceeded through the farthest back point of foeders. Square, table lights illuminated our path as we VERY slowly got lost in the woods…with other attendees at our heels.
Eventually, the woods opened up and a darkly lit, black box with a singular tap appeared. There was almost a warm, glow. And like a moth to a flame, we descended upon two beertenders, slowly pouring from the tap into teeny, tiny cups. Forgetting to ask what we were drinking, we started to speculate on the flavors: lavender, peach, bergamot…settling on EARL GREY! A frickin' earl grey beer. These have previously been some of my favorite beer additions! Needless to say, it was worth the wait.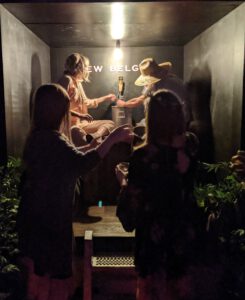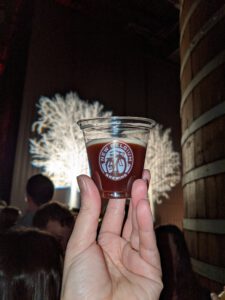 Lost in the Woods is one of my favorite beer events of the year. There's an abundance of sours, attendees dancing without care of spilling said sours, adults in costume, brewing equipment and barrels as decor, and extremely dedicated staff providing an over the top, memorable experience.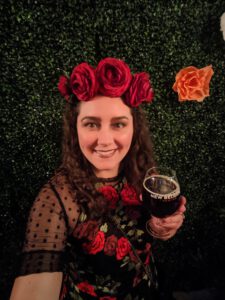 If you want a whimsical, warm evening to break up your winter, plan on attending next year's Lost in the Woods…and reach out if you want to go in on a group costume 😉