On Oct 13th and 14th, High Hops Brewing celebrated their 5th anniversary with three bands, a food truck, commemorative t-shirts, two beer releases, giveaways, and good times all around!
When Lace & Lager arrived at 1 pm, Tyler T. and his didgeridoo took the stage, followed by Dan and Bill Duo at 3:30. Then, local favorite House with a Yard closed down the party, playing until 9 pm.
       
High Hop's slogan is "All types of beer for all types of people," and they truly live up to their words. During the festivities, we sampled many delicious brews – they had almost 40 beers on tap – including IPAs, stouts, barley wines, barrel aged wee-heavys, Belgians, lime beers, hemp and blonde beers. But, if you want our opinion, we felt the best beer by far was their Russian imperial stout.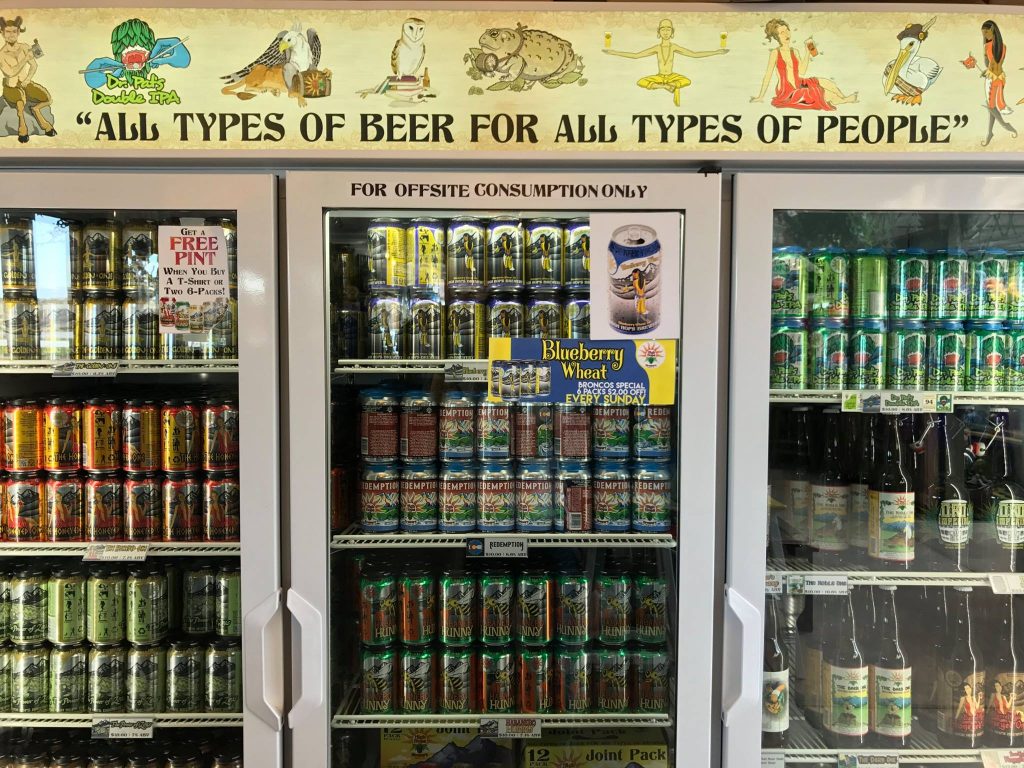 For the duration of the event, Hush food truck served up delicious BBQ. We sampled smoked corn with honey butter & twisted BBQ rub, a PBLT, a black bean burger, BBQ deviled eggs, and hush puppies with crack sauce & twisted BBQ rub. Hush puts a lot of love into everything they create. Perhaps this is due to the close-knit nature of their family-run business. Coincidentally, High Hops is also a family-run business.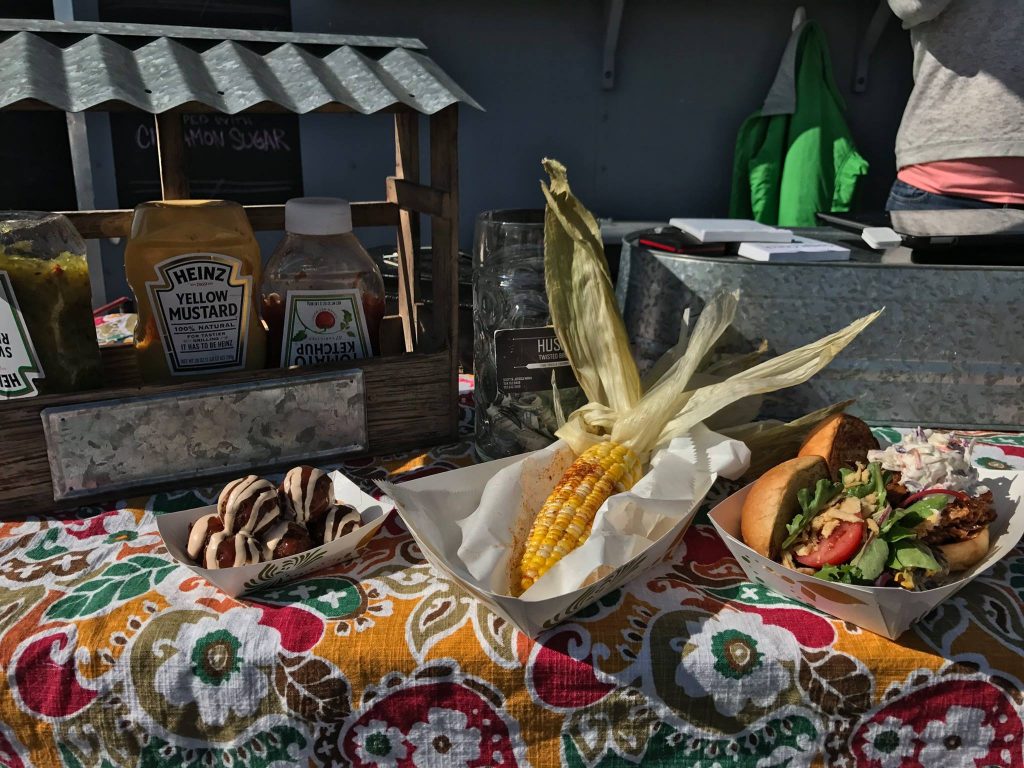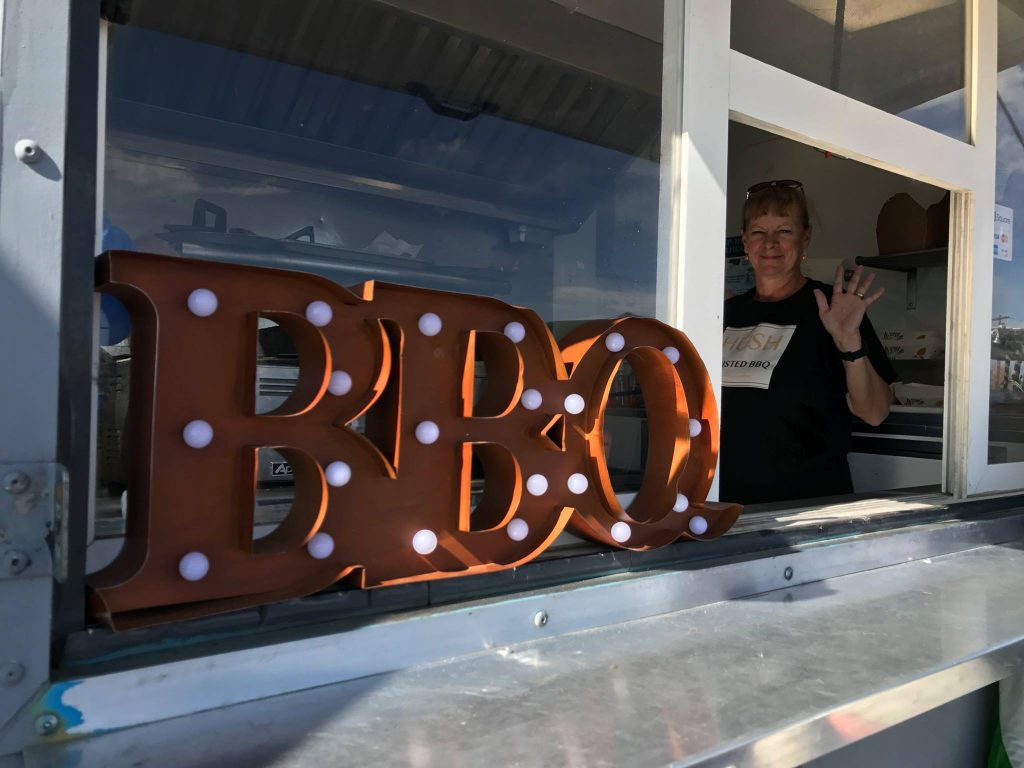 Interview with Kody Highland, Taproom Manager
Kody Highland, the taproom manager at High Hops, generously made time to sit down with us to tell us a bit about the brewery, the beer, and the special people behind High Hops.
L&L: What sets your brewery apart from others in the area?
K H: There are a few things that set High Hops apart from other breweries. First of all, we started as a home brew shop located in the Windsor Gardener. High Hops was the name of the original shop. Our roots run deep in homebrew, and we had the fortunate opportunity to expand and put out some amazing beers to the public, and we don't take that for granted!  Zach Weakland, our head brewer and production manager, always takes time to speak with and advise home brewers.  He may even sell them some of our hops or malts on occasion, which I feel is amazing and down to earth.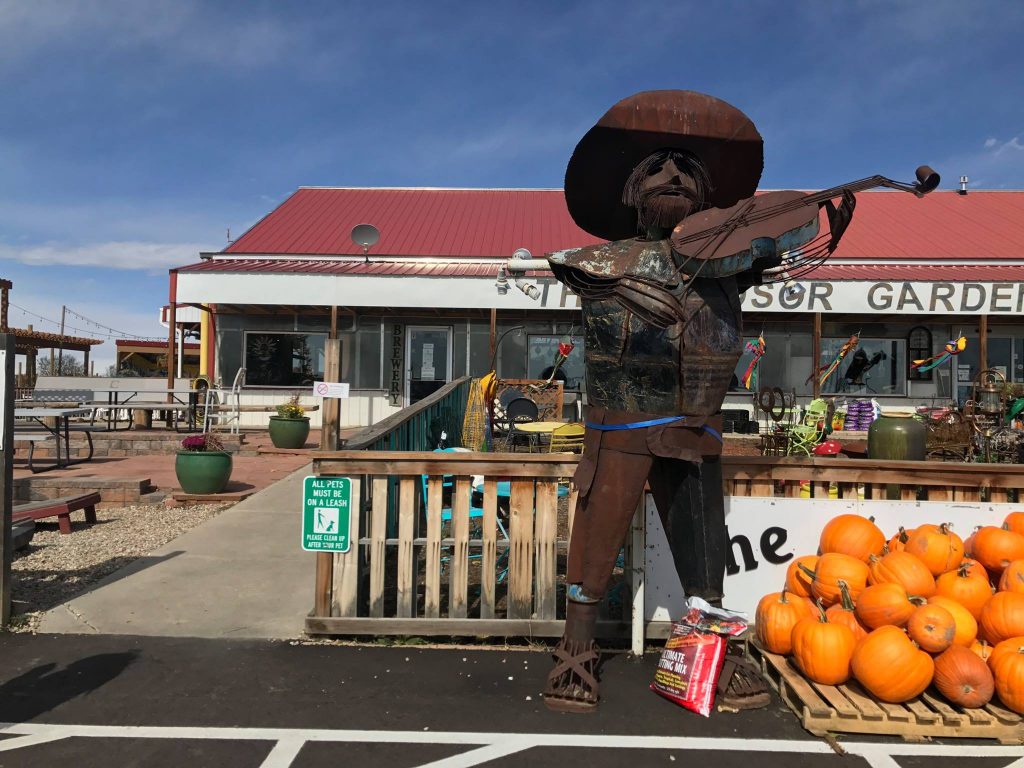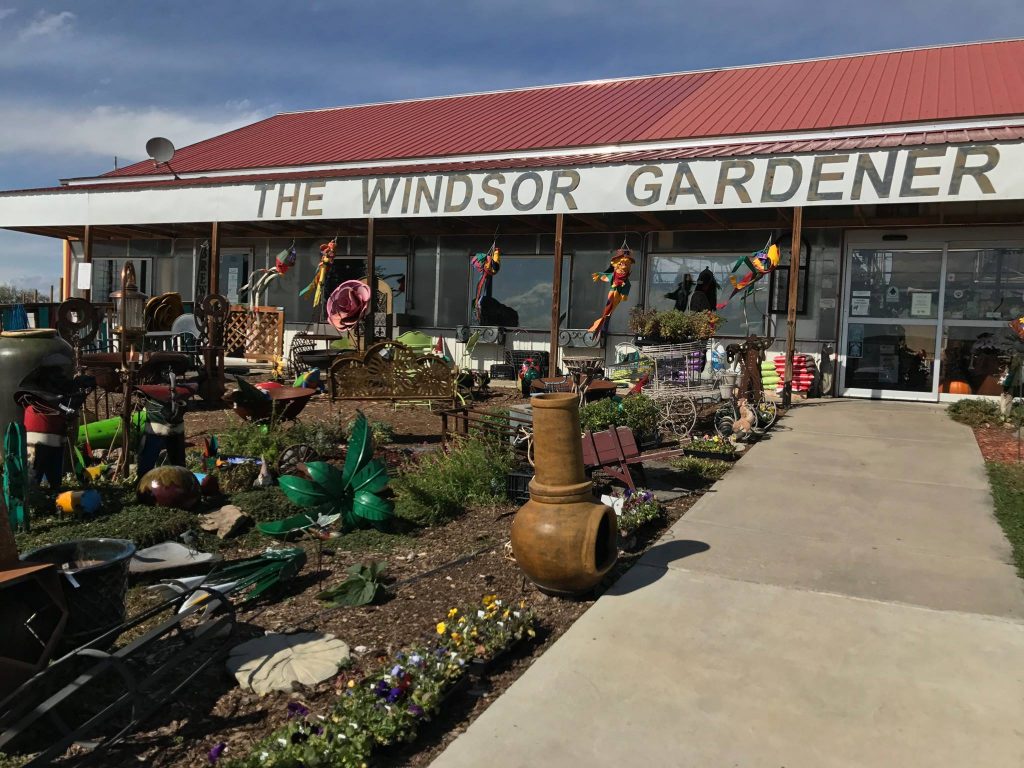 Another aspect that sets us apart is that High Hops is family owned and operated.  Zach's parents, Pat and Amanda Weakland, are extremely present owners. They are always in the brewery-garden center doing whatever it takes to grow this business. Their support and leadership have been paramount in the success of High Hops.
Zach and our brewers are constantly making new beers and expanding our menu.  We always have about 30-40 beers on draft at a given time.  We also release a firkin every Wednesday, keeping Noel's (our brewery manager) creative juices flowing. Firkinfest is an event we do in February which occupies all of our taps with five-gallon small batch beers.  Our motto is "All types of beer for all types of people", and that is very evident on our beer menu.  We don't specialize in a regional style, we just love making great beers.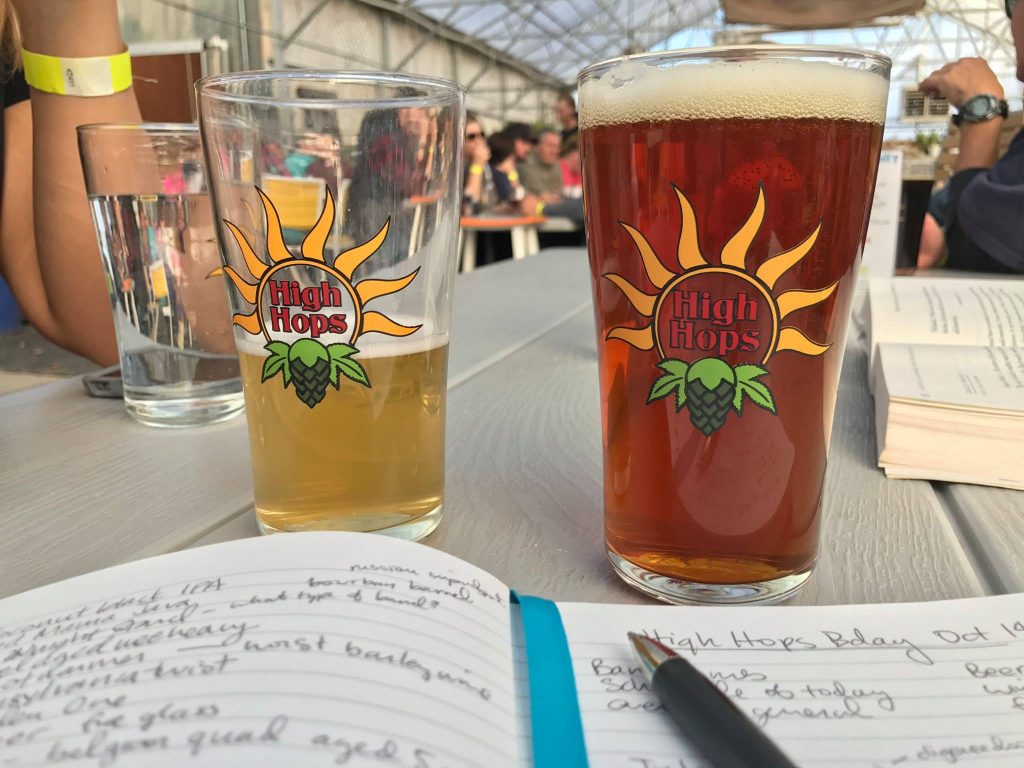 Windsor is a city with two breweries located just on the other side of the I-25 from Fort Collins, the epicenter of the northern Colorado micro-brewery movement.  The great folks who live here have been amazing to us over the years, and the strong feeling of community among our patrons isn't replicated in any brewery that I've ever been to.  We really are a small-town brewery that cares about our small town.
Our employees, whether in the garden center or brewery, are beer freaks!  We all live, eat, and sleep beer.
Finally, I would say the scenery folks can enjoy while having a beer in our tasting room really is beautiful.  You can look out over our hop field toward the mountains and forget everything else but great beer and scenery!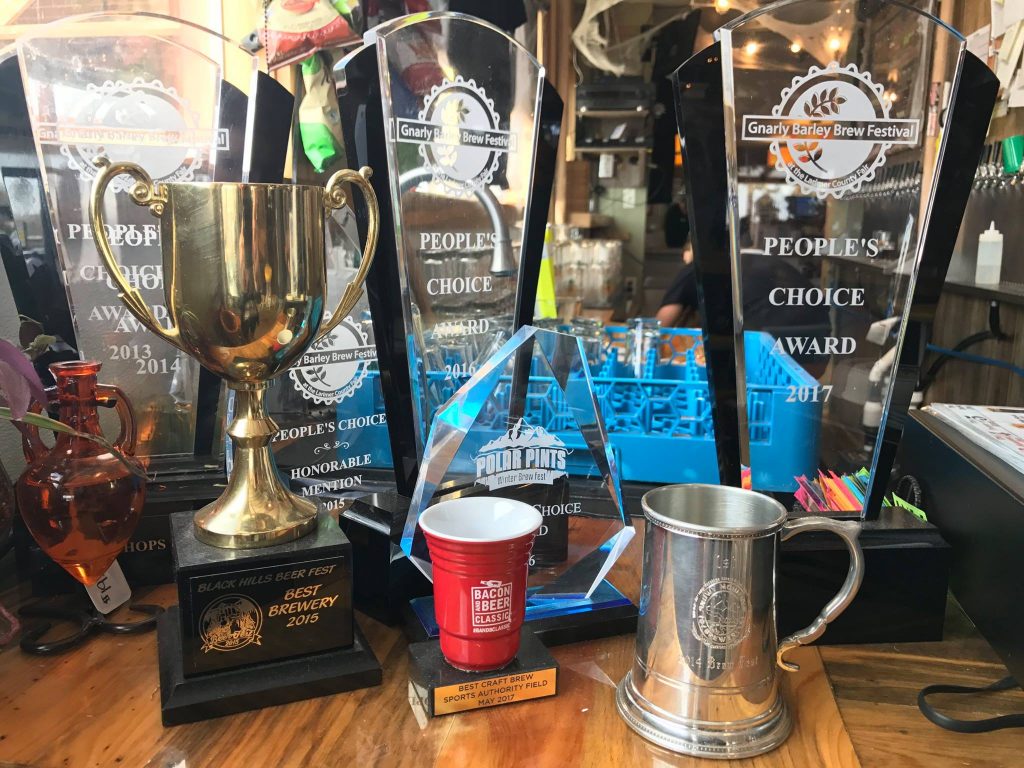 L&L: High Hops really is an amazing place. What are some of your more popular beers right now?
K H:  Right now we have some beers that are disappearing fast to say the least!  Our IPA selection right now is great.  We will start with Dr. Pat's DIPA.  Dr. Pat is a practicing dentist here in Windsor as well as one of our owners.  This beer won a gold medal at The Best Of Craft Beer awards in Portland, Oregon last spring.  The recipe is a 90 minute boil with the addition of bitter orange peel, and is then heavily dry-hopped with Cascade, Citra, and Centennial hops.  Delicious and smooth, this was one of our beers at opening 5 years ago, and has since become a crowd favorite in our tasting room.  Next up is an extremely interesting Coconut Black IPA.  This was a Pro-Amateur beer created by a home brewer in the area and brought to the market by way of our production facility.  Zach's wife even toasted the shredded coconut on cookie sheets for this recipe, pretty awesome!  We also have an India Red Ale called Redemption Red, which is part of our "Colorado Can Series".  Our recent release of Disijooes, an autumn peach IPA, has been extremely popular with locals and travelers alike.  Finally, our fresh hopped IPA, has been flying out of the tasting room.  The hops were grown by a local farm and brought to us the day they were picked.  The entire recipe uses exclusively fresh hops, making it smooth, aromatic, and very palatable.  Those IPAs are just some of our popular beers right now.  We also have some barrel-aged beers that are very popular, and our flagship beers are always a crowd favorite. Brewers are paramount to our success – Zach is the production manager/head brewer, along with three other brewers
 
L&L: What were your first beers?
K H: The beers we started with were: Fresh Hop Ale, Hoppy Stout, Power of Zeus, Dr. Pat's DIPA, Golden One, and ESBZB.  We do still have the Power of Zeus, Dr. Pat's DIPA, and Golden One still in production to this day.
L&L: Do you bottle and/or distribute?
K H:  We do bottle and can beer, and are distributed throughout Colorado, with future goals to distribute in other states.
L&L: Tell me a little about your Monster Mash and Transylvania Twist. What cool names for beers!
K H:   Monster Mash was the original collaboration beer from all of our brewers in 2014.  Monster Mash is a pumpkin pie porter and is completely delicious.  Transylvania Twist is a bourbon barrel-aged Monster Mash that soured in the barrels, and is equally delicious.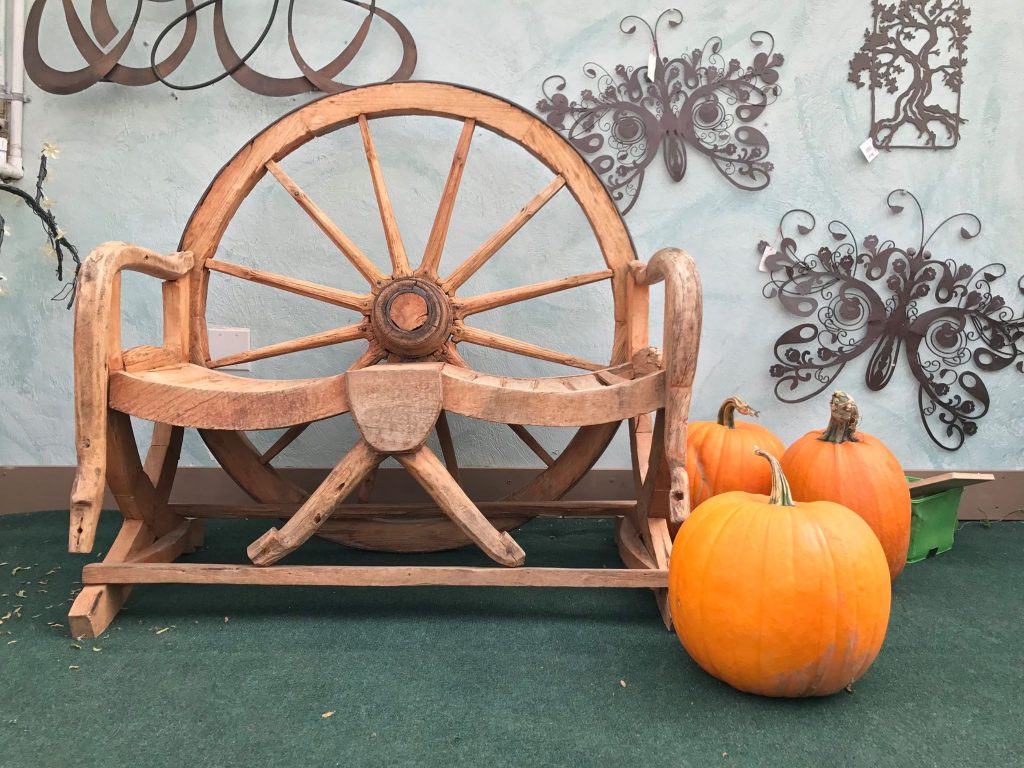 L&L: How has High Hops changed over the years?
K H: High Hops has changed tremendously since inception.  We started with one serving area in our tasting room that has since expanded to three.  We have added a large patio including a stage with frequent live music acts.  We added a canning line making it possible for us to distribute our awesome beers. Finally, we are in a rapid expansion that adds a thirty-barrel brewing system and distillery to our current ten-barrel brewing facility.  This expansion also includes a distillery tasting room, event venue, and a large year-round Beergarden, which happens to be an actual greenhouse garden for a few months of the year.
L&L: What are your expectations for this 5th birthday bash?
K H:  Our expectation for the 5th Year Birthday Bash is a massive turnout from the community of Windsor, as well as quite a few folks from the surrounding areas.  We are looking forward to celebrating with the great people that have helped to bring us success.  We will be having giveaways and releasing special beers that are sure to make this weekend a great time for everybody that decides to come out.  Happy Birthday High Hops!
L&L: Where do you see High Hops 5 years from now?
K H:  Five years from now we hope to have continued success in the beer market, as well as new success in distilling spirits.  We hope to be using our new facilities to get even more great products out to the people who love them, and hope to still be a gathering and building spot for the amazing community here in Windsor. In the future, we see ourselves having a distillery tasting room. We are currently in the process of buying a small still to get started with gin and vodka. The old production facility will be used for barrel aging, and the barrels will switch back and forth between beer and spirits.
 
L&L: I'd love to learn more about your hop field!
K H: The hop field is our pride and joy.  We were unlucky to have a drainage issue that killed our original established hop field.  We were lucky that we had another hop garden, and were able to replant the big field this spring.  The hops were originally planted during the Colorado Hop Shortage of 2007 to supply our loyal home brew customers, and Zach and Pat with much needed hops.  We plan to use all of the hops harvested on the property in the future in our beers. 54 varieties of hops used to be grown in the field, but now there are only 12. We also have a propagation field out back.
L&L: You share your location with a garden nursery. How did you choose such a unique space for the brewery?
K H: The Windsor Gardener was the original business on this property opened in 2000.  We did not choose this space for our brewery, it was just a natural evolution.  Pat and Amanda Weakland are owners of both businesses and are extremely proud of the symbiotic relationship between them.

L&L: What's the best part of working here?
K H: The very best part of working here is the people. At High Hops, it's all about teamwork and helping each other out. We've created a close-knit ecosystem, a culture that is really unique, warm, and comfortable. Also, we only have about 20 employees, so working here is like being part of a family. Being part of the small town of Windsor amplifies our family atmosphere even more. We love to remember people's names.
 
L&L: What's the best way to learn about upcoming beers and events?
K H: You can visit our website, and follow us on SnapChat, Instagram, Facebook, or simply call us at (970) 674-2841. We love chatting directly with our friends and family.
THANK YOU! 
Lace & Lager would like to send a huge "Thank You!" to High Hops Brewery and all of the staff who make High Hops such a unique venue to enjoy beer, music, and camaraderie. We'd like to thank Kody Highland especially for setting aside some time to visit and chat with us.
If you're in Northern Colorado, we hope you get the chance to check out High Hops and see how special it is for yourself!