"Two brewery owners, a taproom manager, a creative marketer, a liquor store owner and a nonprofit executive director walk into a coffee shop. And the rest is history."
Note: This interview was written prior to the event. The photos included at the end of the article were taken at the event and added after the original article was published. 
Wellington Brewfest is just a few weeks away. This NoCo festival includes unlimited beer from 16 breweries, local food vendors, music, and a family-friendly environment. Short lines and local vibes are what sets this festival apart from the rest, and patrons can feel great about supporting the Wellington community.
With an incredible passion for the town of Wellington, six "Founding Females" are bringing this festival to life for a second time in support of their community and in celebration of craft beer.
Lace & Lager's Ali Cornish met Wellington Brewfest's Founding Females at Old Colorado Brewing Company for a beer and conversation. Ali was able to collectively interview all six inspiring women about the festival's origins and goals, its distinctive aspects, and how it benefits the community. 
L & L: What are the goals of the festival?
FF: The idea for the festival actually began as a joke. We thought – wouldn't it be funny to make a brewfest with Wellington breweries? Hit two places, then you're done! The festival idea stayed with us, and grew from there. We realized having a brewfest in Wellington was more than a joke – it could be something real.
There are not a lot of things to do in Wellington. All of our collective businesses are excited about bringing more activities to our town. Lots of people live here but don't necessarily spend time here, and we are always looking for ways to get people who live in Wellington to stay in Wellington.
L & L: How will the community of Wellington benefit from the event?
FF: Part of the reason why we hold the festival where we do – right off the main street – is to be close to downtown. We want people to come to the brewfest and then visit the rest of the businesses in town. We want the festival to be something that benefits the whole town.
The funds raised go into downtown Wellington. Last year's funds went toward a promotional video for downtown Wellington. Additionally, the funds went toward a mural, brochures, new website, and promoting our program. This year we are partly using the funds for another mural project. We want to create a more vibrant downtown, and support our sponsors – local businesses. We also want to encourage residents to stay local and support their town.
It was also important that we kept it community based. It isn't just a money-making event, and that's why the Wellington Main Streets Program is involved. All the fundraising we do goes back into downtown Wellington.
L & L: Was the event's purpose to bring together women-owned businesses?
FF: The fact that Wellington Brewfest is a women-run festival was coincidental in the beginning. When we're at community events, we recently discovered, when we look around, we are the movers and the shakers. We work together on lots of events, including Wellington's concert series.
L & L: How did you pick the breweries involved?
FF: Last year we had 12 breweries, this year we will have 16. Some brewery choices were specific, but most were based on the connections that we had. We have a limit to how many breweries can be involved and we wanted to stay with smaller breweries: breweries that wouldn't necessarily be getting the recognition in other places, or breweries that need the exposure.
Being from Wellington, and knowing the feeling of being on the outside looking in, we wanted to make sure we were including folks that are in a similar position. First and foremost, we wanted to make sure that the three Wellington breweries were included.
L & L: What is unique or special about the festival?
FF: One of the things that people enjoyed about the brewfest last year is that there were no lines. That was the feedback we received – "don't make it so big [this year] that we lose the small-town feel." Wellington Brewfest feels local, since a lot of Wellington is represented.  People are in and out, the atmosphere is laid back. It's family friendly as much as a brewfest can be. It's chill. Bring a chair, sit down, and have a beer in the shade.  Everyone knows everyone.
People respect the nature of the festival. It's not a crazy drunk fest. We've added four breweries since last year, in the same space. And, we've extended hours this year too. Wellington Brewfest has music, food trucks, other beverages besides beer – it's not all about the beer; there's no slamming beers. You can take your time to taste and experience what's out there and what's available.
L & L: What's it in for you Founding Females, the volunteers?
FF: We are all volunteering our time, but we are all representing and presenting our companies. [Being a part of Wellington Brewfest] is really good exposure for all of us, especially for those businesses who have storefronts right here in Wellington. It's beneficial for all of us to show people Wellington. People come from Wyoming, Denver, Fort Collins, Loveland. Also, the brewfest gets locals out into the town – On many occasions, we hear about how people – residents of Wellington – step into businesses downtown saying, "Oh I didn't even know this was here!" It's hard to believe.
L & L: How have you seen a change in the town with your respective businesses?
FF: The change is definitely there, sometimes it feels slower with the amount of growth happening, which comes down to the exposure for us as businesses and the support we give one another. If we want our businesses to succeed, others have to succeed as well. Our success is based on others success. Promoting each other is self-promotion as well. For example, Annie at Cantina sees a customer whose cart is full of craft brew – she'll say "Have you checked out the breweries in town? They are A, B, and C, and this is where they are located. We throw customers at each other, and it's a piece of the puzzle for everybody.
Wellington is in a transition period. It's fun and challenging to be a part of a town in transition. Once the high school opens, the town will grow even more. There's so much change and so much potential for Wellington, and it's only going to get better. It's so much fun to be able to see that and experience it firsthand.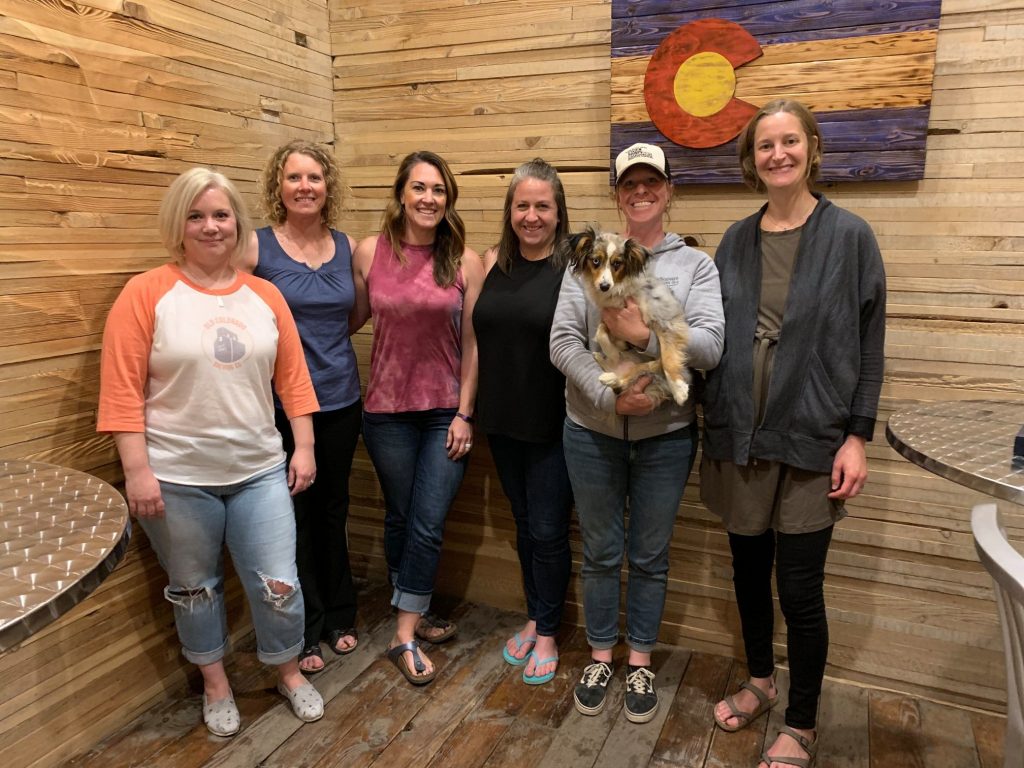 L & L: We are so excited to experience this festival firsthand. It sounds like a brewfest from our dreams – an intimate, local, family-friendly, relaxed community gathering with great beer. What a great way to spend a Saturday!
Tickets include a commemorative sample cup and an afternoon of unlimited craft beer samples from many northern Colorado breweries.
All proceeds from this event will benefit the Wellington Colorado Main Streets Program.
To learn more about Wellington Brewfest, please visit https://wellingtonbrewfest.com/
The photos below were added to this article after it was published.
Upon reflecting on Wellington Brewfest…
L & L: What a great event! In our opinion, Wellington Brewfest is the best craft beer festival we have ever attended. Nowhere else have we experienced such an intimate, community gathering. Everyone was genuinely happy to be there. Families relaxed comfortably, strangers became friends, and we all discovered new favorite beers. The weather was perfect, and these smiles say it all. Thank you, Founding Females of Wellington Brewfest for a job well done. We can't wait till next year!