Sad Panda is one of the most beloved brews in NoCo. This coffee stout made Horse & Dragon a household name in Fort Collins. So it was no surprise when nearly six years after the beer originated, an entire festival was built around Sad Panda.
Pandamonium was an idea that Josh, their Head Brewer, had suggested and approached the owners about. They loved the idea, and decided the festival would be a celebration of their classic coffee stout, while opening up Horse & Dragon so that people could explore the brewing facility and mingle with the staff while meeting new friends!
And so the owners – Tim and Carol Cochran – created an exceptionally unique, very successful small-beer fest.
Savannah of Lace & Lager was able to attend and tell her story!
I was greeted by the panda-onesie wearing daughter of the owner, Trina, who scanned my ticket, checked my ID and explained how the festival worked; your ticket included unlimited pours of twelve Sad Panda variations (with two exceptions) and oh-so much more.
The first pour we were invited to drink was a palette cleanser of the OG Sad Panda presented in your branded souvenir glass for the day. Then you were asked to wear a name tag, in hopes of striking up new conversations, so there'd be no strangers. This was the first thing that struck me as unique.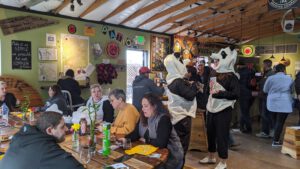 Other things I have never seen at another beer fest:
Puzzle with each new Sad Panda variation label, with attendees assembling it during the fest
Sad Panda pancake station made with spent grain
Ice cream to make beer floats; they suggested the Sassy Panda (root beer variation), but you could choose whichever variety you wanted
GoWest screen-printing station where you could get the Pandamonium logo on anything you'd like
Tiny trailer photo booth full of panda paraphernalia and cheeky props
I went in thinking the tickets were a bit steep at $65, but quickly saw Horse & Dragon worked their buts off to make it worth it. Plus, $10 from each ticket was donated to the Poudre River Coalition.
Local eatery Snack Attack catered the food, including a veggie option, accompanied by reusable plates, napkins, and water cups. I can only imagine the amount of waste most festivals create. But not Pandamonium.
Just about the only thing I saw being thrown away were toothpicks used for olives/cheese, a bit of food waste, and ice cream containers. I was truly taken aback by the effort put into minimizing waste. I have no doubt that thoughtfulness like this that supporters love, which builds continued support for H&D.
"This that I hope what we're known for, in addition to reliably great beer, is for contributing to and supporting our community," said co-owner, Carol Cochran, "We try to do this to the best of our abilities and think it's the best thing about craft beer."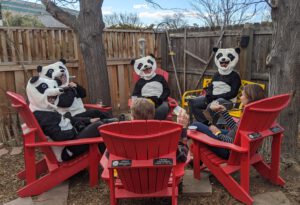 The small space of the brewery was full of about 120 happy, stout-loving attendees. It seemed like they opened up every inch of the brewery/taproom/patio area. But even though it was busy, it never felt crowded. Lines to each beer station were never too long (unless you count the line for the bathroom) and there was plenty of seating inside and out.
Beer was being poured throughout the brewhouse and taproom from taps, firkins, straight from the barrel and from jockey boxes.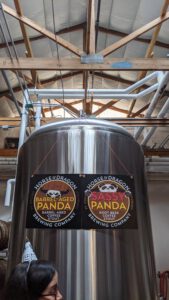 The brewer, the sales rep, and everyone in their work-family helped come up with the Sad Panda varieties:
Chocolate Hazelnut Panda
Subtle nutty-nose, dry finish, not as sweet as original.
Hot Chocolate Panda
Made with cayenne and dark chocolate. I would have loved more of a heat kick. It was more of a mid-tongue spice that lingered slightly with lots of dark chocolate on the nose.
Chai Panda
Made with cardamom and cinnamon. Definitely spicy and very dry. It was a bit strange because I so often associate chai with a latte, i.e. milky, but I loved that they focused on the spice, and did not make it a milkshake beer. This was my second favorite variety.
Double Espresso Panda
Much heavier coffee flavor with a subtle sweetness, and was very dry.
Sassy Panda
Their root beer coffee stout with lots of sassafras on the nose, but slightly watered down to their original coffee stout.
Passionate Panda
Made with passion fruit. Chocolate on the nose, the sweetest version I tried, but it was by no means too sweet and mellowed out beautifully. It was more carbonated than the others, which I loved. THIS was my favorite.
Barrel-Aged Panda
Unfortunately, this variety did not come to fruition. As with all barrel-aging, you never know how it'll turn out. The beer that was in the barrel they planned to use for aging Sad Panda took longer than expected, and they were not happy with the way the BA Sad Panda turned out, so they served a cask-aged version straight from the barrel instead! I have a lot of respect for them for making that decision.
Sad Panda on Nitro
I have had this version before and am not a big nitro fan, so I skipped this one.
And since I am dairy free, I couldn't partake in:
Vanilla Milkshake Panda
Malted Milk Ball Panda (overheard lots of love for this one)
Panda Dulce De Leche
The vast majority of these beers were only available at the festival, but Nitro Sad Panda will be available in the tasting room for the month of March.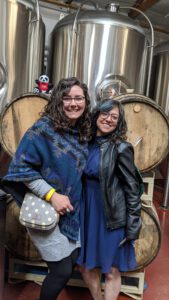 I was so excited to run into Linsey, Horse & Dragon's original head brewer and the gal that developed the recipe for Sad Panda. I certainly hope she was proud of the comradery and love that her beer has created. H&D has gone on to create 155 different beer recipes, but Sad Panda is certainly unique.
There were so many panda enthusiasts, Sad Panda enthusiasts, Horse & Dragon enthusiasts, and stout enthusiasts. And lots of people even came dressed in panda themed:
Hoodies
Earrings
Party hats
Beanies
Onesies
Shirts
Full on panda mascot outfits
Facepaint masks
Even a little panda baby!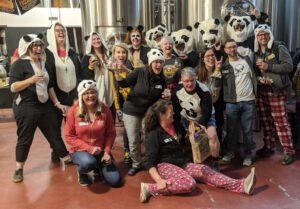 Pandamonium was such a relaxed beer fest. It didn't feel like it was the first of its kind considering how organized it seemed. People were so happy to be getting their beer, then grabbing a snack and just sitting with their friends. It didn't have the usual feel of a drunken beer fest with guests trying to drink as much as possible before they stop pouring. It didn't feel like a race to get drunk. This truly was not like any other beer fest.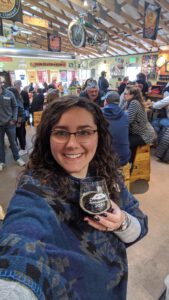 It's so impressive for a brewery to be able to center a festival around one beer. And the owners aren't even sure as to why it's so popular!
"Of course we think the beer is delicious and it has so many interesting layers, but that's true of many of our dark beers. Somehow the market was just ready for a flavorful and light-bodied stout. We will be forever grateful to the brand and the people who've embraced it as part of their beer life," said Carol.
H&D is very active on social media, so follow them on Facebook for future event announcements.
We were curious if they have thought about other festivals themed around another one of their beers. They said it would definitely be Adventure On IPA. "We love the beer, and we also love its message, which is get-out-and-go! Colorado is such a fantastic place to explore, and having a delicious, juicy-hoppy beer with you at a mountaintop or riverside augments the experience, for sure. That beer might be a bit harder to create so many varieties of, but you never know…"