There's a spot in town that tastes like they've been here forever, meticulously honing and crafting their lagers to perfection for decades. But, SURPRISE, they're brand new, and thanks to a gracious invite from our friend Piper Hall, I was able to attend their soft opening and immerse myself in their lovely new digs and their SERIOUSLY delicious brews.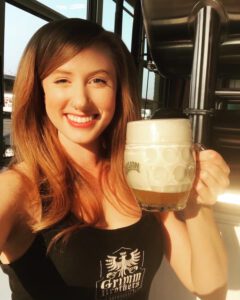 Cohesion Brewing is a Czech style lager-focused brewery, located in the Clayton neighborhood of Denver, hitting the scene hot with three PERFECT lagers:
The first is a light, 10° (3.9%) draft beer, which is an homage to the most consumed style in the Czech Republic. This beer is clean, quaffable, and leans toward the malt – and with an ABV like that, I had to have a few ;).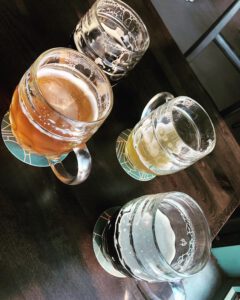 Their second offering was Tmavý ležák, or dark lager, clocking in at 14°, or 5.1% ABV. This one was my favorite, with a rich, beautiful malty flavor and a full body. It remained perfectly drinkable on a hot day, but still kind of made me want to sink into a soft, cushiony couch with a book and just sip.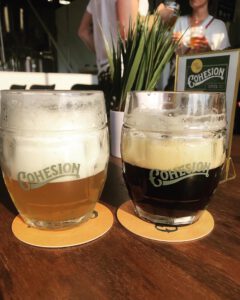 Their third beer on draught was a collaboration brew with Wild Provisions Beer (😻) called Karel, which is an 8° (3%) light lager with an earthy, floral hop presence. The hops are showcased moreso in this beer than the other two beers, and the balance is perfect. This is a sessionable quencher that you can find at both the Cohesion and Wild Provisions taprooms until she's gone.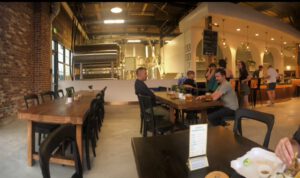 Another REALLY COOL thing about this spot is that you can order your beers in three different pour styles. With traditional Czech lagers, the head, or foam, is a hugely important part of the drinking experience. Foam is a good thing, and the crew at Cohesion knows all about it. A pour called Hladinka is the closest to your "standard" beer pour, with a healthy inch or so of head on top of your beer. There is also a pour style called a Šnyt, which consists of about half foam. Finally, there is the Mlíko, which is nearly all rich, luxurious, creamy, beer foam in a glass, meant to be drank quickly on a hot day. What a cool experience to literally drink foam at this gorgeous new taproom on a perfect Colorado evening!
Overall, I loved my first experience at Cohesion. Thanks to the staff and to Piper for letting us indulge. Consider me a fan and a soon-to-be repeat customer! Na zdraví! 🍻 – Erika