Since its inception in 2000, Tour de Fat has brought together thousands of people from all walks of life with its promise of bikes, beer, and bemusement. This philanthropically-minded national tour of performance artists, bike-enthusiasts, and musical entertainment has raised over 5 million dollars to non-profits around the country. After a somewhat criticized 2017 season, Tour de Fat rides on; the popular festival made its honorable return to six lucky US cities this year.
I am incredibly lucky to live in Fort Collins. My outdoorsy-Northern Colorado metropolis hosted the largest TDF bike parade of any other host city this year: more than 20,000 costumed revelers assembled at Mountain and Meldrum to cruise the streets for more than two hours. AND, in addition to the best parade in the country, Fort Collins' main event actually takes place at the brewery, which is something special indeed. Tour de Fat Day is truly a day to be grateful to be a resident of Fort Collins.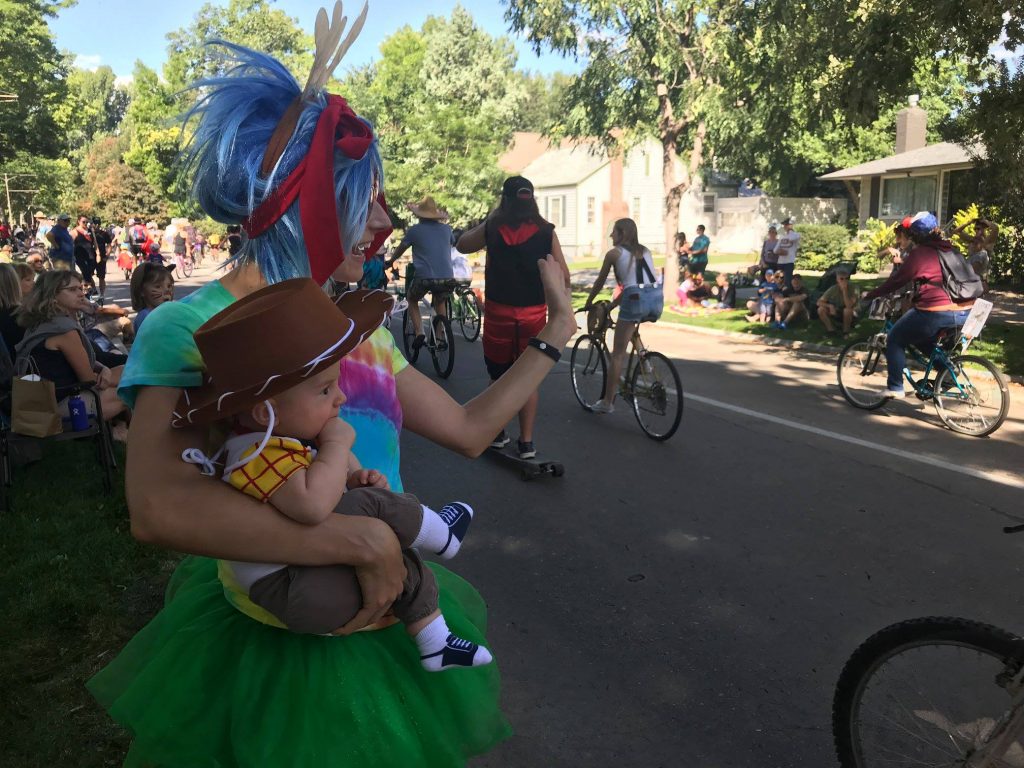 The Tour de Fat Bike Parade!
Tour de Fat Day fell on September 1st this year, and thousands of costumed revelers convened to celebrate its majesty. Typically, TDF's main event is made up of musical entertainment at a specified venue, beginning with a bicycle parade through the host city. Mimicking the magnificence from years prior, the bike parade summoned "droves of colorfully donned debutantes to front yards to watch the whole town pass by on bicycles and creative parade floats. It's always inspiring to see everyone together, in pursuit of a happy, playful "Tour de Fat" life – a life emblazoned with New Belgium's ethos of balance, a life that is slow, deliberate, yet punctuated with spontaneity and ingenuity" (from last year's article TDF Changing with the Times).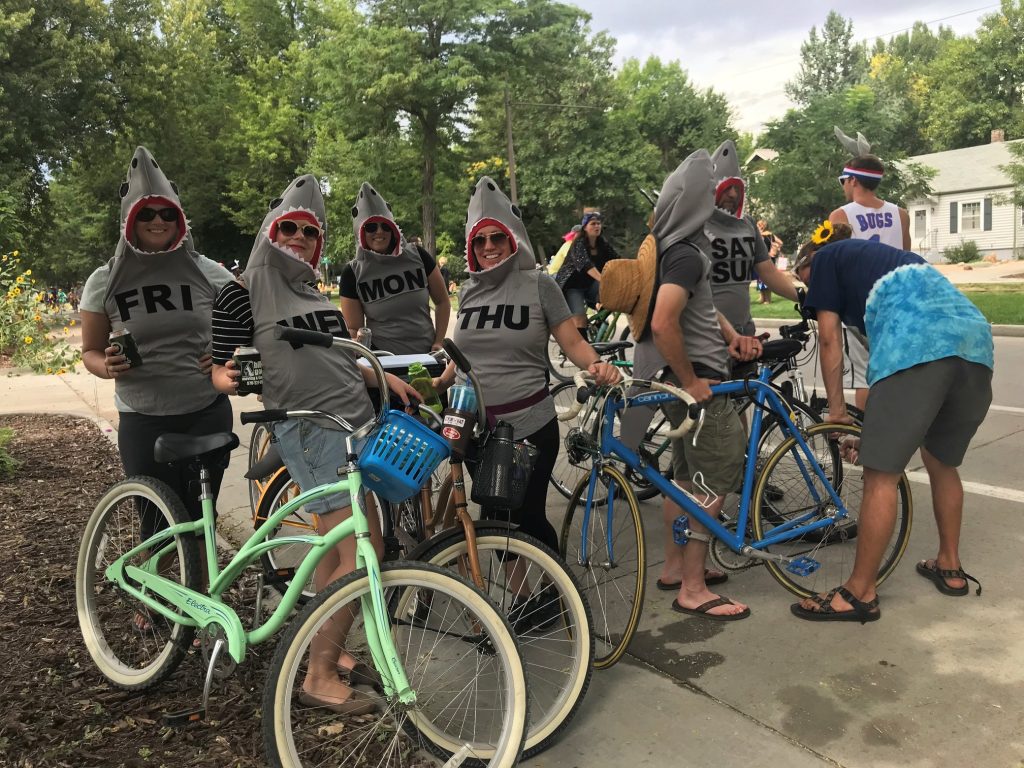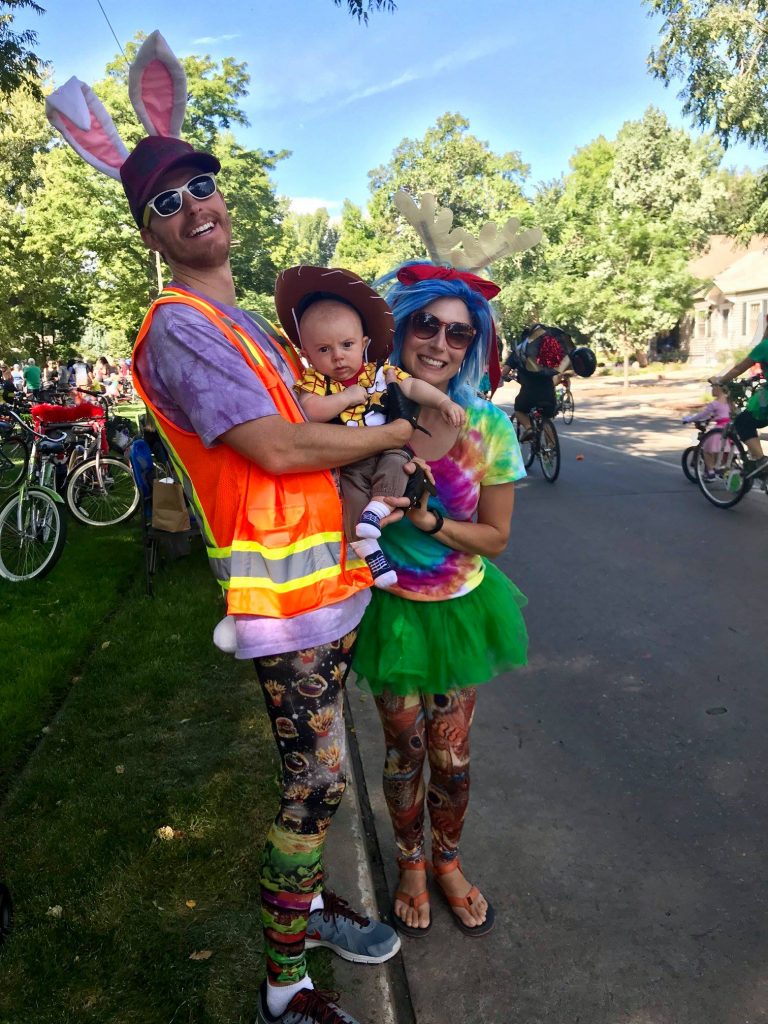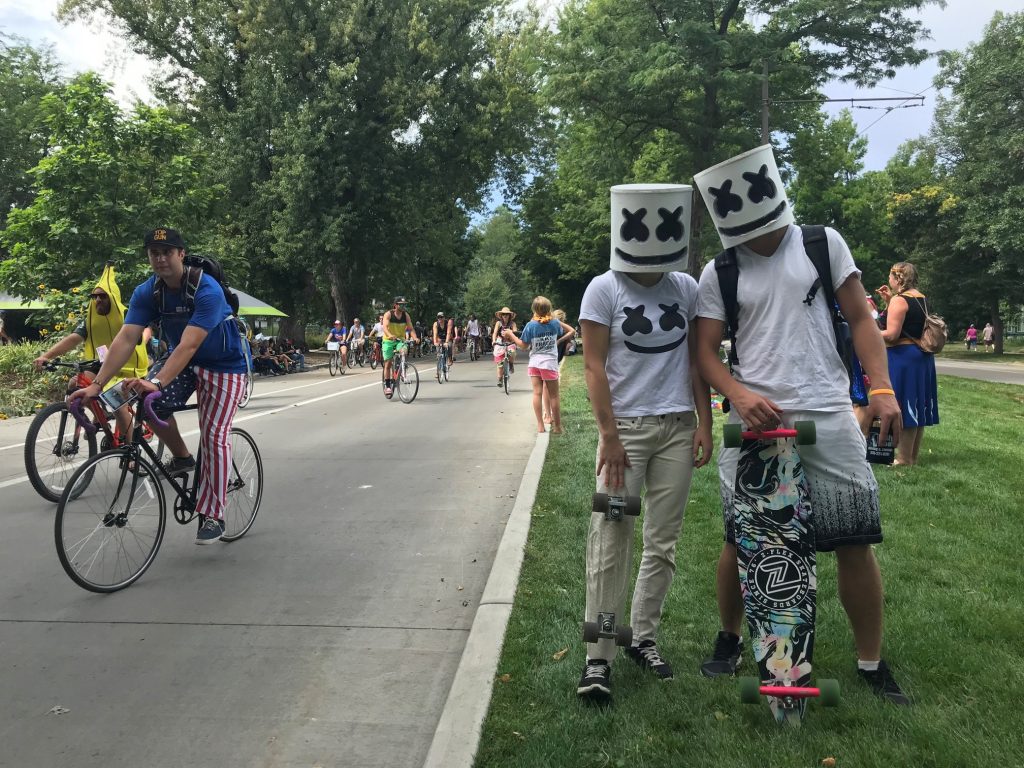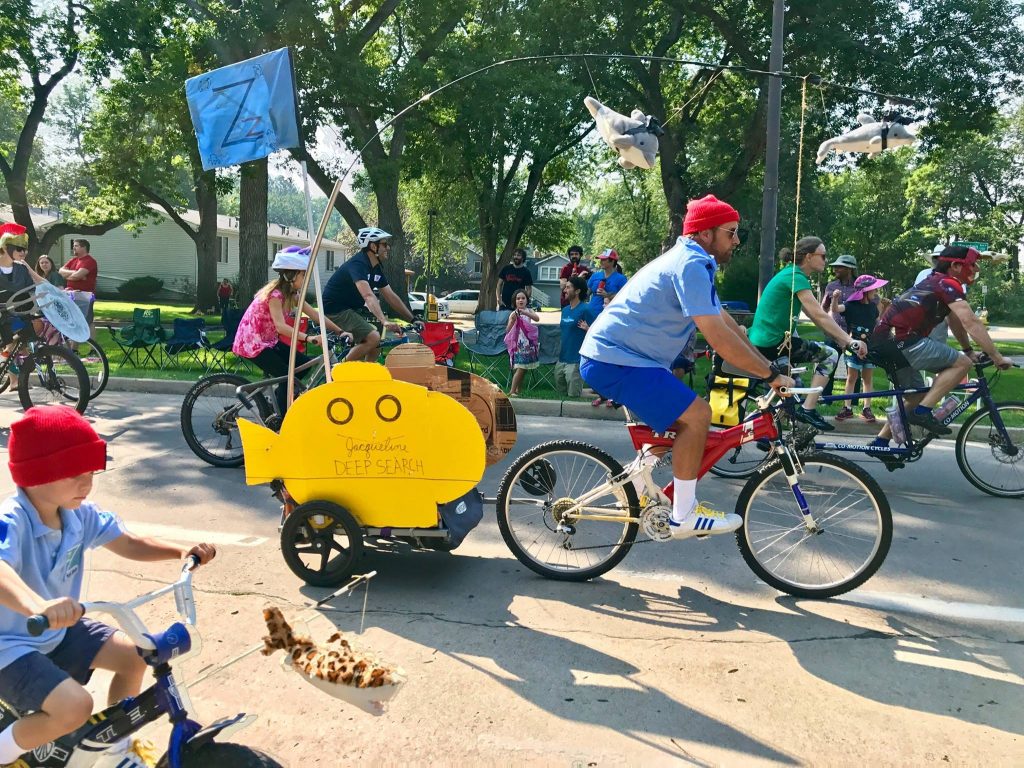 There was a short break between the end of the parade and the beginning of the official TDF events at New Belgium Brewing; parade ended at 12:30 and the NBB events began at 2pm. Parades of the past ran right into the festival when it took place in City Park, instead of New Belgium Brewing. This created fanfare and merriment that transferred to the official event itself.
In addition to the slight confusion over the break, the brewery hosted only about 5,000 people for the main event, which leaves me wondering – perhaps the reduction of attendance was due to the ticketed nature of the event, the relative popularity of the headlining musical entertainment, or perhaps NBB cannot safely accommodate more than 5,000?
Regardless, both Tour de Fat's festival and parade brought the same outstanding creativity, artistry, and costumes it continues to bring year after year. It's my favorite day of the year. And, it's such a helpful day for the community. Not only does TDF bring contagious joy and happiness to all who attend, TDF also has raised over $5 million for organizations all over the country. Specific Fort Collins' beneficiaries for 2018 included Bike Fort Collins, Overland Mountain Biking Club, Fort Collins Bike Co-Op, and Ciclismo Youth Foundation.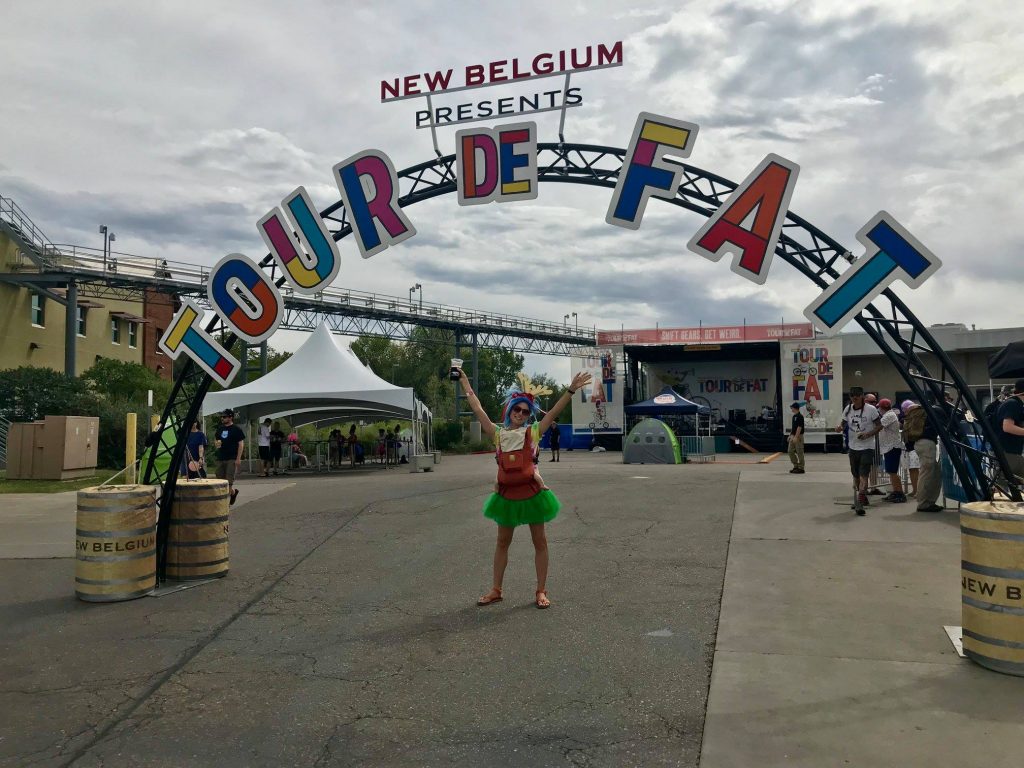 Festival at New Belgium Brewing 
Lace & Lager arrived at New Belgium Brewing promptly at 2pm, grabbed a Fat Tire Belgium White and a Voodoo Ranger, and immediately made the acquaintance of Jason Gogela, impressively garbed as the Voodoo Ranger, after NBB's popular IPA. It took Gogela a little over two years to create his costume, made almost completely from beer paraphernalia: labels, tap handles, and even tap lines.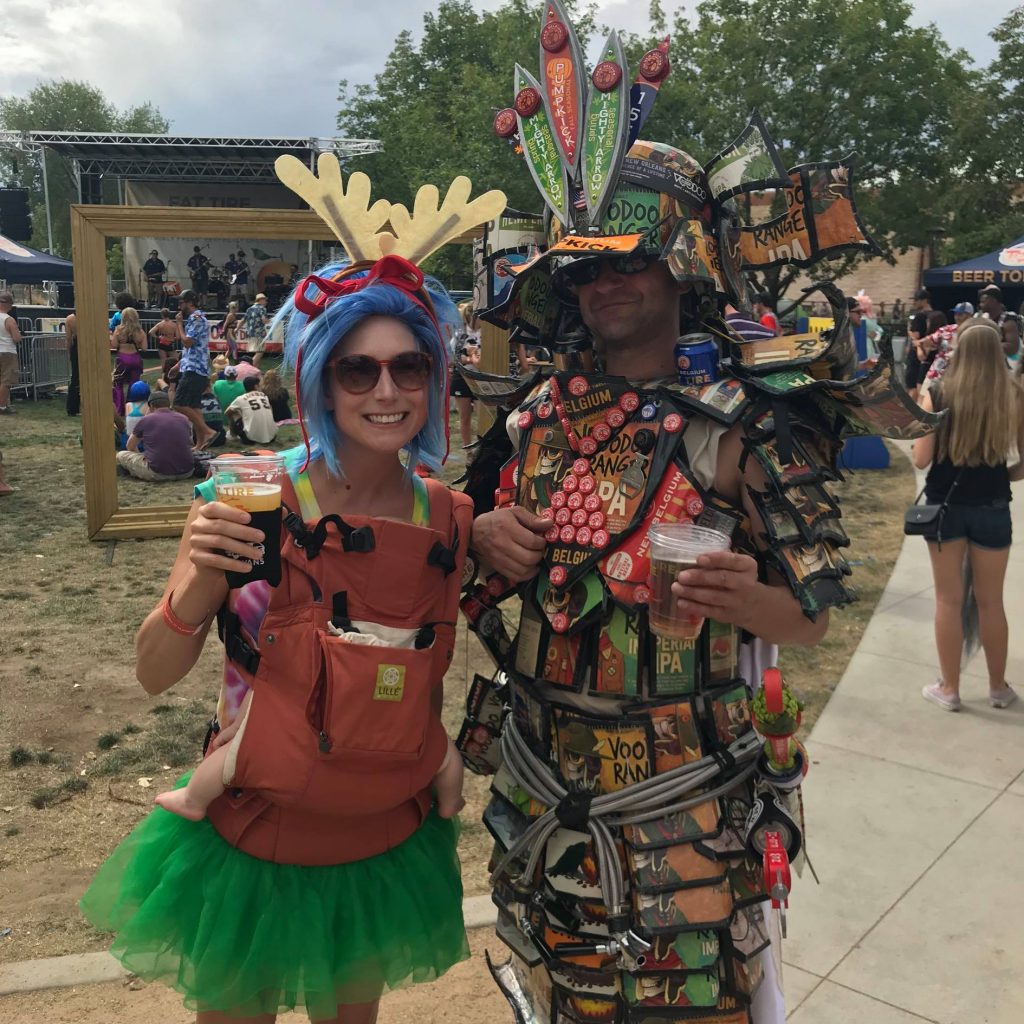 Moving through to the rear of the brewery, we found ourselves at the Main Stage. First to take the stage was the ever-entertaining Fire Leopard, followed by the annual Slow Ride contest, and the Talent Show. The Dance Contest was sandwiched between KOLARS and Phosphorescent; festival goe-rs traveled from the taproom to the rear of the brewery, grabbing pints at one of several beer stations (with minimal lines – thank you NBB!) and sampling sustenance from the many food trucks parked out back.
As usual, artistic entertainment pieces and ensembles punctuated the festival, including a giant picture frame, a circus mirror, a giant Citradelic box with funky gears inside, a karaoke potty, and more. The roving stage Sputnik was chartered by "Camp Artsy Fartsy."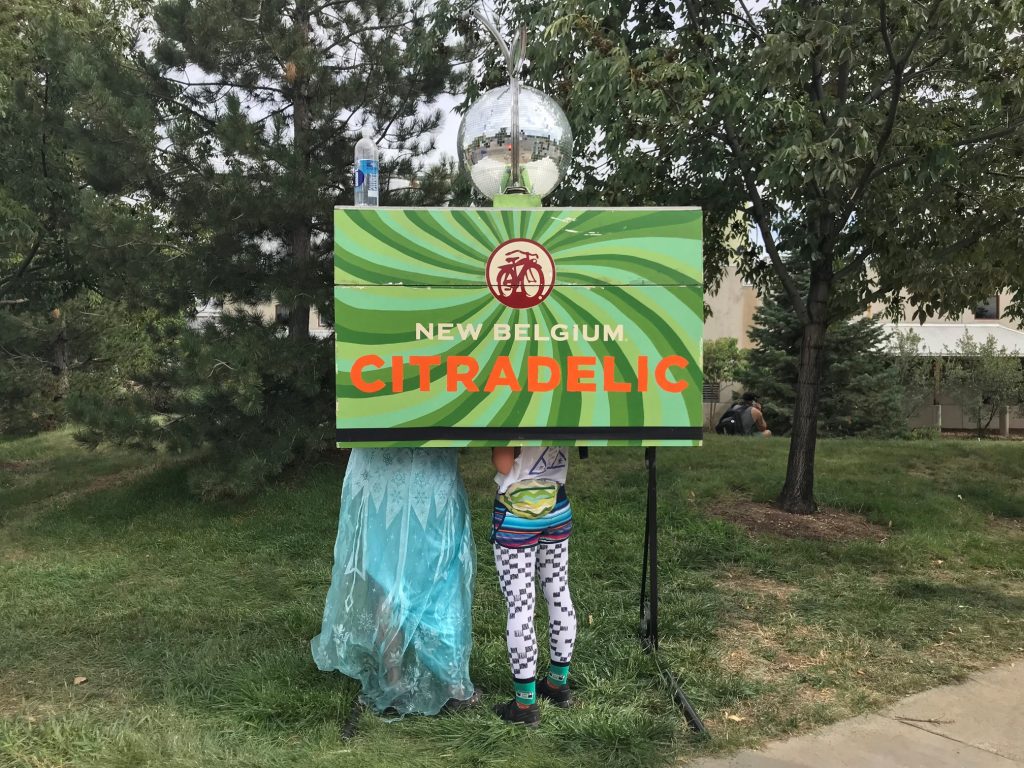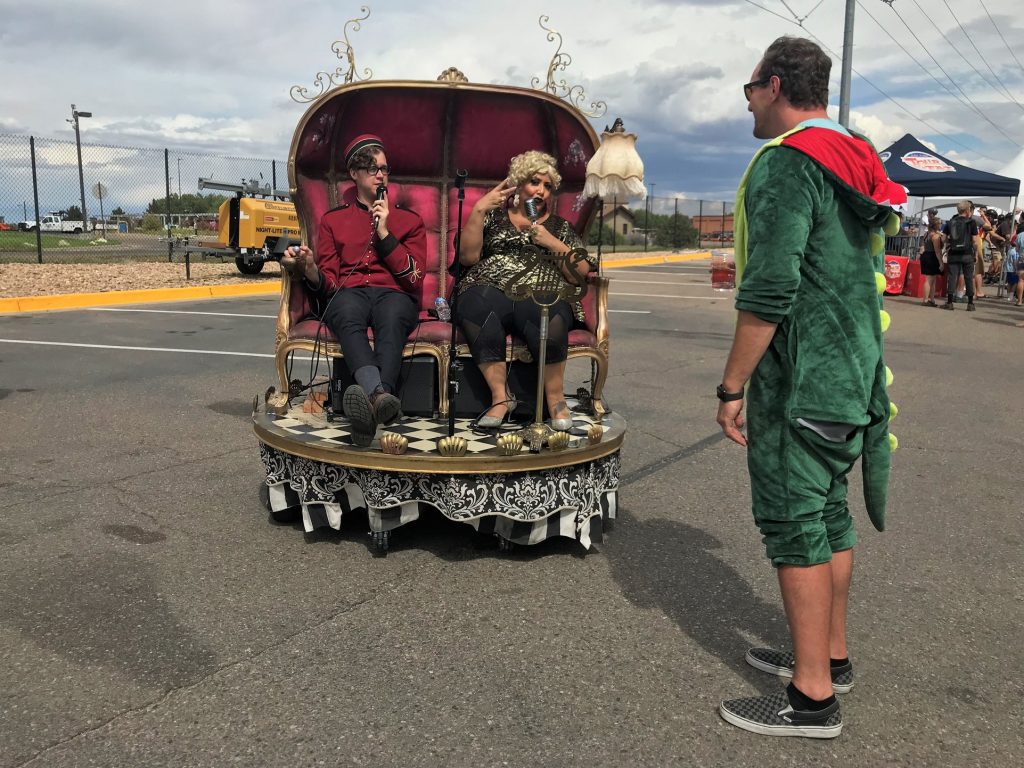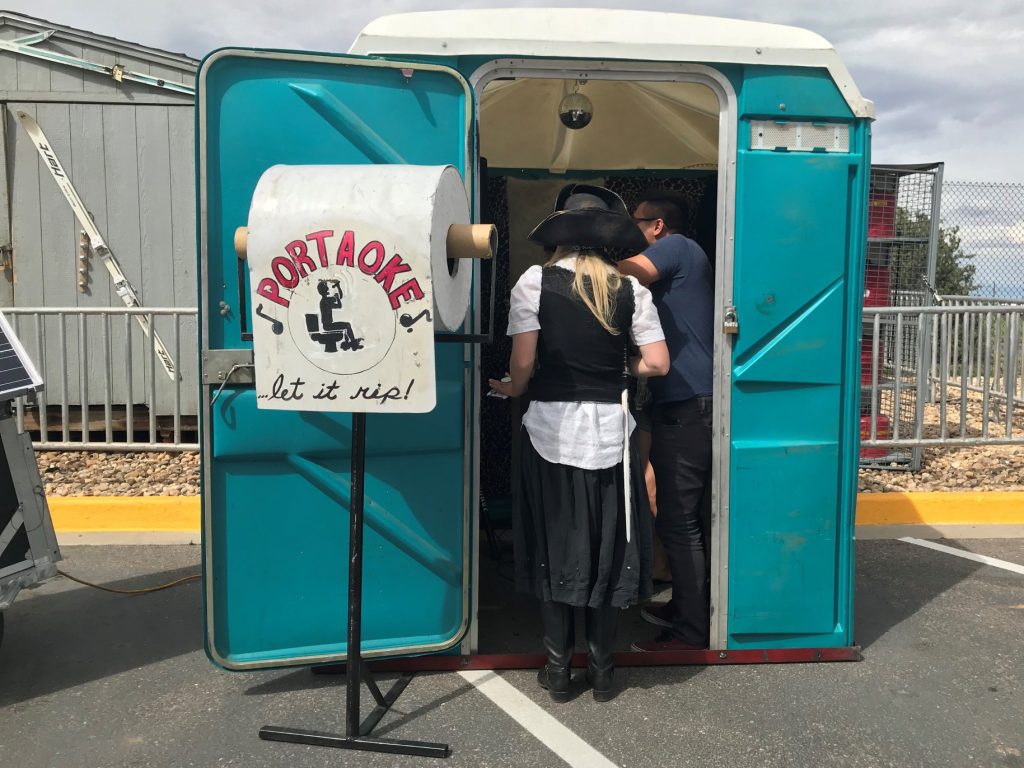 This year's entertainment theme was "Summer Camp." Two rival camps competed for the audiences's attention and provided a story-line for the performing artists. One camp, Camp TDF (Tour de Fat), "owned" the main stage. Their rivals, Camp "Artsy Fartsy," performed near the roving Sputnik stage. NBB spokesperson Jesse Claeys was able to give us more information about the dueling camps: "the camps sort of talk smack back and forth throughout the day and interrupt each other to perform. Logistically, the dueling stages give performers a chance to take a break and provides a new element and focal point for attendees." Lace & Lager didn't experience the full effect of this performance art, since we were wandering around for most of the afternoon, riding "Frankenstein" bikes in the Bike Pit, and exploring the different aspects of the festival.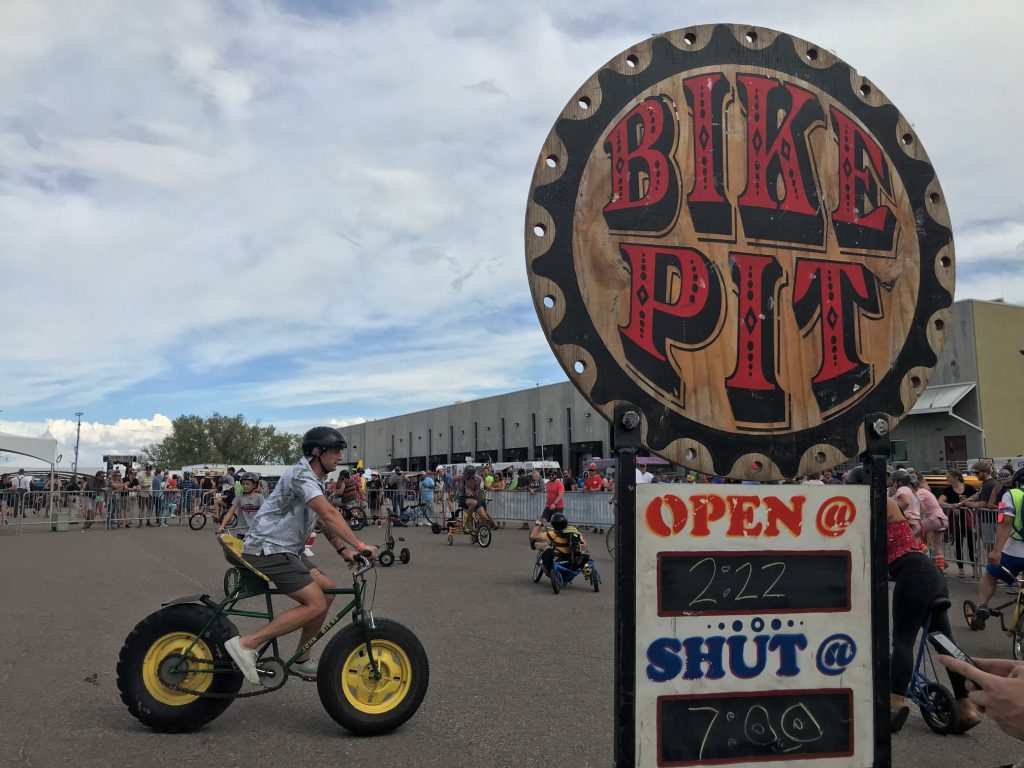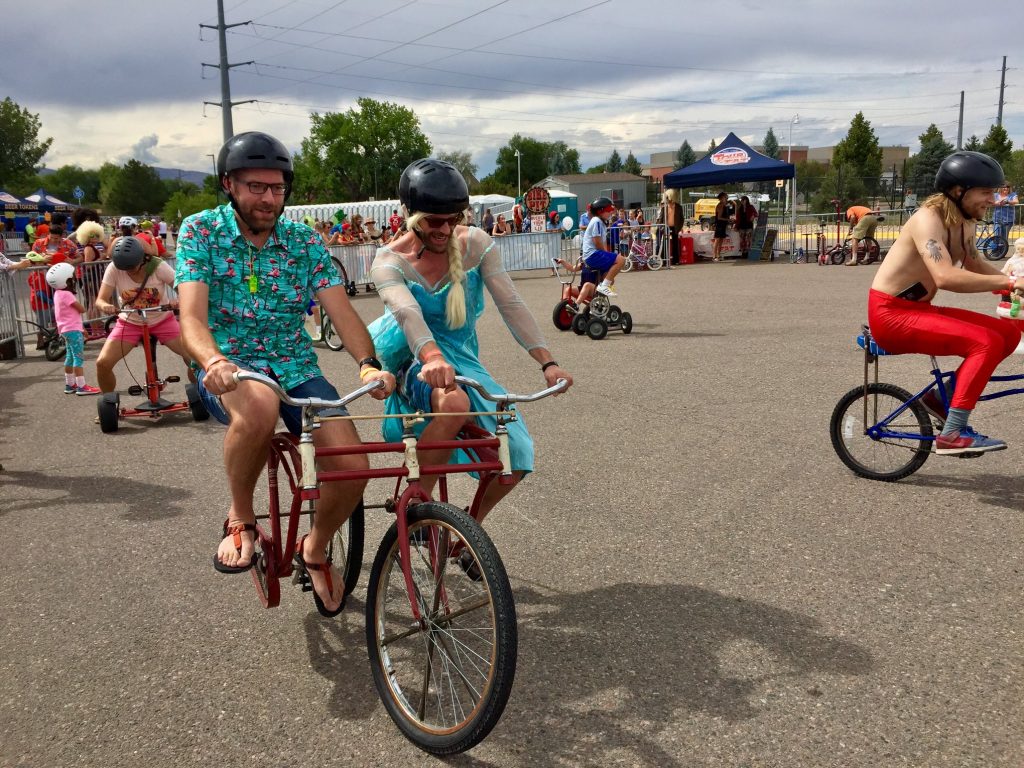 Tour de Fat Rides On
In recent years, TDF has undergone many changes, the biggest change being the switch from a free event to a ticketed event. This change stirred up the criticisms of loyal Tour attendees, mostly seen in response to the 2017 season when the tour visited over 30 cities and tickets were $25. Since then, New Belgium Brewing has returned Tour de Fat closer to its origins. 2018's installment saw TDF embark on a more modest tour of 6 cities, starting in Chicago and concluding in Tempe, and general admission was reduced to $15. For more information on 2017's Fort Collins TDF, see "Tour de Fat: Changing with the Times." 
Lace & Lager's point of view as women who love beer, and now as mothers who love beer, might shed a different light on the subject. I found that TDF's promise of beers, bikes, and bemusement attracts women and mothers of all ages and stages. And, my infant wasn't the youngest in attendance – we met an 8-week old little girl whose family was thrilled to be participating in the merriment. The happiness exuded by paraders and partiers is contagious, and there's an effervescent energy buzzing everywhere all day. It's hard not to smile at TDF!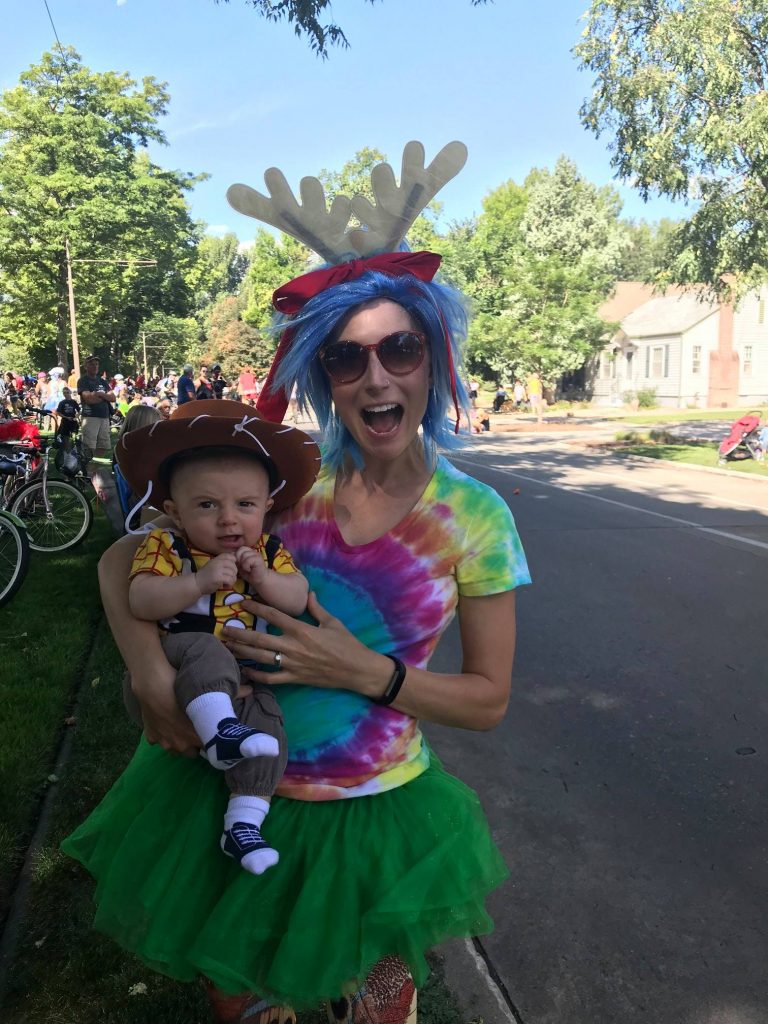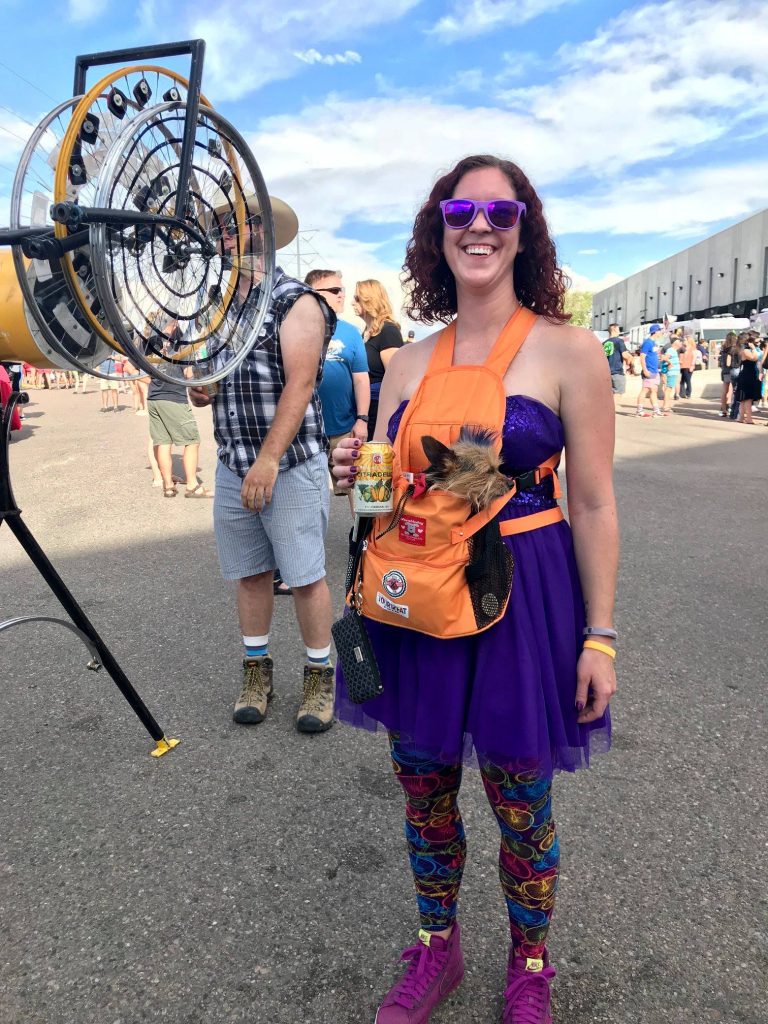 There were a few elements of the festival that I didn't care for. There wasn't much shade at all, something that can't really be helped since we live in Colorado where the sun reigns supreme all year long. The majority of the festival took place on a concrete lot, an unforgiving surface that sizzled beneath our feet all day. My mind drifted back to Tours of the past, especially previous events in Chicago's Palmer Park, where festival-goers frolicked beneath trees and nestled their toes in the soft grass while sipping on Carnie Blood. 
Speaking of Carnie Blood, the ever-changing beer brewed specifically for Tour de Fat, where was it? Come to think of it, I recall there were more idiosyncrasies, unique beer offerings, decorative elements, and performing artists in the past. We also missed the former charismatic Master of Ceremonies, Matthew Ché Kowal, who curated TDF from 2005-2016.
Upon speculation, these changes may be due to the budget fluctuations over the years, with more money going to the bigger bands, and less towards the acting troupes and special little TDF touches. The parade remains an incredible assemblage of energy and joy, but it is mainly out of NBB's hands. The continued amazingness of the parade is due to both the culture of a hosting city and the people who participate. 
I think this quote provided a great closing for this article.
"The locals bring the most energy, charisma, and quirkiness to the Tour de Fat. Even more than what New Belgium has been able to bring for the past 2 years. I'd like to challenge New Belgium to go back to their roots, and bring the crazy weirdness back to the Tour de Fat. I know they have it within them. I'm looking forward to what they will bring for the 20th anniversary next year!"  -self-described Pre-Diabetic Safety Rabbit.
Don't get me wrong: I LOVE Tour de Fat. I love what it stands for, and how it brings people together. And, I want to see this festival continue to "shine like a rainbow" as a joyful expression of art, transport, and fanciful whimsy.